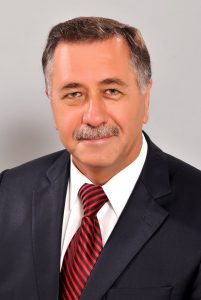 Mykola Kuhutiak – Director of the Institute of History, Ethnology and Archeology of the Carpathians, Doctor of Historical Sciences, Doctor of Philosophy, Professor. Honored Worker of Science and Technology of Ukraine, Dean of the Faculty of History, Political Science and International Relations of Vasyl Stefanyk Precarpathian National University.
He was born on October 27, 1952 in the village of Nazavyziv (Nadvirna district of Ivano-Frankivsk region).
Education: Faculty of History of Vasyl Stefanyk Ivano-Frankivsk State Pedagogical Institute (1981), postgraduate studies at the Institute of Social Sciences (Lviv, 1984).
Professional activity: Since 1984, he has been working at the History Faculty of the Ivano-Frankivsk Pedagogical Institute: an assistant at the department of history of the USSR and Ukrainian SSR, in 1990 he was awarded the academic title of associate professor.
Candidate's thesis on the topic "Position and revolutionary liberation struggle of agricultural workers of Western Ukraine in 1929–1939." He defended his thesis on June 28, 1985 in the specialized council of Odessa State University. In 1994, he defended his thesis at the Ukrainian Free University (Munich, Germany) with the award of a Doctor of Philosophy degree.
Doctoral dissertation on the topic "National-political movement in Galicia in 1890-1939." He defended his dissertation on February 6, 1996 at the Institute of Political and Ethnonational Studies of the National Academy of Sciences of Ukraine, majoring in "Ethnology"; in 1996 he was awarded the academic title of professor.
Professor M. Kuhutiak is the director of the Educational and Scientific Institute of History, Ethnology and Archeology of the Carpathians (active since 2008). On the initiative of M. Kuhutiak the Carpathian Ethnological and Archaeological Expedition was created, which began its activities in 2006. The purpose of the expedition is to identify, map and survey the ancient and medieval cult monuments of the Carpathian region, defense and industrial complexes of the region, Transcarpathian routes, research of historical toponymy, traditional culture of ethnographic groups, history of the national liberation movement.
Under the leadership of M. Kuhutiak 27 candidate's and two doctoral theses were defended. He is the head of the specialized council for the defense of candidate theses in the specialties "History of Ukraine", "Ethnology". The scientist is the founder and editor-in-chief of the specialized scientific historical and local history journal "Halychyna", "Bulletin of the Precarpathian National University. History" of the specialized scientific journal "Carpathians: Man, Ethnicity, Civilization".