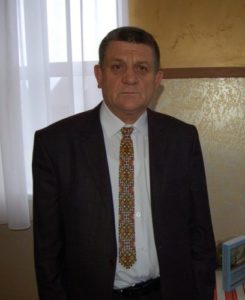 Petro Siredzhuk is a leading specialist of the Educational and Scientific Institute of History, Ethnology and Archeology of the Carpathians, Ukrainian teacher, historian, local historian. Doctor of historical sciences (2010). Permanent member of the Hutsul Research Institute in Chicago (1994, USA); head of the historical and local history section of the Regional Association of Hutsul region researchers. Honorary member of the Union of Local History of Carpathians (1997).
He was born on November 23, 1949 in the village of Kosmach (now Kosiv district, Ivano-Frankivsk region).
Graduated from the historical and pedagogical faculty of the Ivano-Frankivsk Pedagogical Institute (1976, now the Precarpathian National University).
He worked as a history and geography teacher in the village of Ustechko, Zalishchyky district (1976—1978); in the Department of the Ministry of Internal Affairs (UMVS) bodies in Lviv (1978—1994, lieutenant colonel of the militia); teacher of the Department of Social Disciplines of the Lviv Institute of Internal Affairs at the Ukrainian Academy of Internal Affairs (1994—2004). Since 2004, he is a senior lecturer, associate professor of the department of general economic and humanitarian disciplines of the Ivano-Frankivsk Institute of Management of TNEU (now the West Ukrainian National University). In 2018–2020, he was a professor at the Department of Slavic History of Vasyl Stefanyk Precarpathian National University.
In 1989, he defended his thesis for the degree of candidate of historical sciences. In 2010, he defended his doctoral thesis "Socio-economic situation and cultural life of the German minority of Eastern Galicia (20-30s of XX century)". Researches the history and antiquities of the Hutsul Region, studies documents on the history of Prykarpattia in the Middle Ages. Organizer of three archeological expeditions to study and research the monuments of Kosiv region. Author of 190 scientific works and 400 historical and local history publications in periodicals.